I am quite particular about many things, and my day planner is no exception. While I greatly value functionality, I have a hard time shelling out a lot of money for a posh, customizable day planner. Therefore, I have tried quite a few different planners and styles that are less than $20 over the years. In the end, there was one.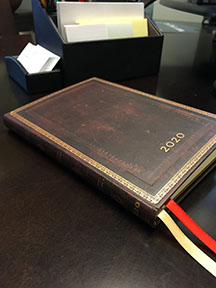 Please meet the Paperblanks 12 Month 2020 Midi Week-at-A-Time Planner. I actually stumbled upon this planner at a bookstore in Germany while I was on vacation. I was in need of a new planner, so I bought it thinking it would be a unique souvenir and figured learning the days of the week in German could be a fun new skill. Well, I did not retain any German vocabulary at all, but I did land on a very functional planner that I have now repurchased three times (in English).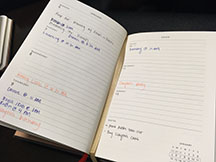 The section for each day has enough lines that I can roughly plug in meetings and tasks according to the time of day they'll be occurring. Friday-Sunday are chunked together on a separate page so I can also plan out my weekends. There is a section for weekly notes where I can jot down tasks that I need to remember to account for somewhere in my schedule that week. There is a glimpse of the monthly calendar in the corner so I can stay oriented to how quickly future deadlines are approaching. And if I haven't sold you yet, there are also monthly calendars in the front that I use regularly for planning out longer projects.
Unfortunately, this doesn't seem to be a planner that I've been able to easily walk into Staples or Target to pick up when I'm approaching the end of the year. Every year I locate it from a new seller on Amazon and cross my fingers that when I open it up, I'll see my handy accessory that's grown to be a necessary cog in keeping my life running smoothly. It's small enough to bring along with me without any hassle, and the sturdy cover means I'm never dealing with folded or damaged pages after a trip in my purse.
While my online calendars now do most of the heavy lifting in planning out my weeks and months, I still need a physical planner for keeping track of the smaller tasks that need done each day. Excuse me now while I check off "website post" and move on to "get back to work" from today's list.